PCSS has the resources and training you need
to meet the needs of your patients.
PCSS is a national training and clinical mentoring project developed in response to the opioid use disorder crisis. Made up of a coalition and led by the American Academy of Addiction Psychiatry (AAAP), PCSS's education and training resources are developed for healthcare providers and professionals. The overarching goal of PCSS is to provide the most effective evidenced-based clinical practices in the prevention of OUD through proper opioid prescribing practices, identifying patients with OUD, and the treatment of opioid use disorder.
Joint Accreditation: Interprofessional Continuing Education:
Education for the team, by the team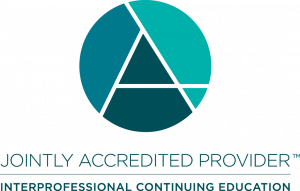 In 2019, American Academy of Addiction Psychiatry was approved as a provider of Joint Accreditation for Interprofessional Continuing Education™. Joint Accreditation is the leading model of interprofessional collaboration that helps improve healthcare through continuing education for the team, by the team. Joint Accreditation offers us the opportunity to be simultaneously accredited to provide medicine, pharmacy and nursing continuing education activities through a single, unified application process, fee structure and set of accreditation standards, from these three global leaders in the field of accreditation: Accreditation Council for Continuing Medical Education (ACCME), Accreditation Council for Pharmacy Education (ACPE) and American Nurses Credentialing Center (ANCC). By offering three accreditations in one review process, Joint Accreditation promotes interprofessional continuing education activities specifically designed to improve interprofessional collaborative practice in health care delivery. Learn more about Joint Accreditation.
American Academy of Addiction Psychiatry has also added accreditation for these disciplines and some of our activities offer credits for these as well:
American Academy of Physician Assistants (AAPA)
American Psychological Association (APA)
Association of Social Work Boards (ASWB)
American Dental Association's Continuing Education Recognition Program (ADA CERP)
View Educational Activities by Format
---
---
---
Find an Educational Activity
Most Recent Trainings
Controlled substances, including opioids, benzodiazepines and medical cannabis, are commonly prescribed for treatment of chronic pain. Urine drug screens (UDS) are often used in clinical practice to test for the presence of prescribed drugs in an effort to monitor compliance. This application-based webinar will provide participants the opportunity to further their ability to appropriately interpret UDS results through review of real-life patient case scenarios.

There is a high prevalence of mental health disorders among those with opioid use disorder. However, many practitioners still find it difficult to distinguish between differential diagnoses that may have similar symptomatology, especially in regards to mental health and substance misuse. This webinar will enable participants to summarize the prevalence of common co-morbid mental illness, explain the relationships between concurrent mental health and opioid use disorder (OUD) and recognize risk factors associated with both mental health disorders and OUD.

Understanding addiction is essential to successfully addressing it. In this overview of substance use disorders we discuss the spectrum of use, neurobiological responses to substances, theories that explain the disorders, public health impact and epidemiology, comorbidity, harm reduction and integrated care for this chronic condition.