PCSS has the resources and training you need
to meet the needs of your patients.
PCSS is a national training and clinical mentoring project developed in response to the opioid use disorder crisis. Made up of a coalition and led by the American Academy of Addiction Psychiatry (AAAP), PCSS's education and training resources are developed for healthcare providers and professionals. The overarching goal of PCSS is to provide the most effective evidenced-based clinical practices in the prevention of OUD through proper opioid prescribing practices, identifying patients with OUD, and the treatment of opioid use disorder.
Joint Accreditation: Interprofessional Continuing Education:
Education for the team, by the team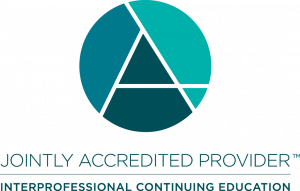 In 2019, American Academy of Addiction Psychiatry was approved as a provider of Joint Accreditation for Interprofessional Continuing Education™. Joint Accreditation is the leading model of interprofessional collaboration that helps improve healthcare through continuing education for the team, by the team. Joint Accreditation offers us the opportunity to be simultaneously accredited to provide medicine, pharmacy and nursing continuing education activities through a single, unified application process, fee structure and set of accreditation standards, from these three global leaders in the field of accreditation: Accreditation Council for Continuing Medical Education (ACCME), Accreditation Council for Pharmacy Education (ACPE) and American Nurses Credentialing Center (ANCC). By offering three accreditations in one review process, Joint Accreditation promotes interprofessional continuing education activities specifically designed to improve interprofessional collaborative practice in health care delivery. Learn more about Joint Accreditation.
American Academy of Addiction Psychiatry has also added accreditation for these disciplines and some of our activities offer credits for these as well:
American Academy of Physician Assistants (AAPA)
American Psychological Association (APA)
Association of Social Work Boards (ASWB)
American Dental Association's Continuing Education Recognition Program (ADA CERP)
View Educational Activities by Format
---
---
---
Find an Educational Activity
Most Recent Trainings
Suicide is a leading cause of death in the United States, with provisional estimates of over 47,000 deaths in 2021. Nonetheless, the evidence shows suicide can be prevented through comprehensive healthcare and community-based strategies, as outlined in the Surgeon General's Call to Action to Implement the National Strategy for Suicide Prevention. Substance misuse is a risk factor for suicide, and people who use opioids are at increased risk for suicidal thoughts and behaviors. This webinar will provide an overview of risk and protective factors associated with suicidality and opioid use disorder (OUD), and will outline effective organizational and clinical prevention and intervention strategies for individuals experiencing OUD.

Overdose deaths have increased in urban and rural counties; however, rural communities continue to be disproportionately impacted. Approximately half of rural counties do not have a provider waivered to prescribe buprenorphine and there is extremely limited access to harm reduction services in rural communities. This webinar will explore why rural areas have been severely impacted by the overdose epidemic and discuss unique challenges, as well as opportunities to make demonstrable improvements to engaging rural patients with opioid use disorder.

Dr. Kaminer presents the third webinar regarding youth/adolescent substance use disorder regards the epidemic of drug-related fatal overdoses among young people in the United States. Between 2000 and 2019, the US national suicide rate in youth aged 15 - 19 increased from 8 to 12.8 per 100,000 and similarly, in 20 - 24-year old's from 12.5 to 17 per 100,000. Due to difficulties assessing intentionality and differences among states, the true rate of intentional drug-related fatal overdoses may not be known. This webinar aims to introduce the magnitude of the epidemic among youth in the United States as well as how this is a difficult health outcome to measure.